Деламоде Македонија зема учество на традиционалниот собир на Маккам транс и членките пред распределбата на Цемт дозволите
09. 27. 2015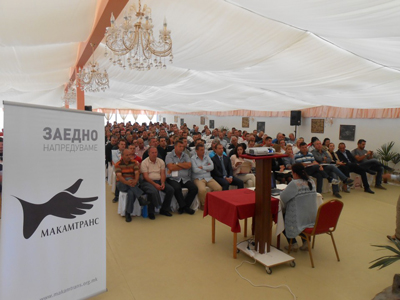 On September 26, 2015, at 11:00 am in Veles, Macedonia, Delamode Macedonia took part in the traditional meeting of Maccam Tran and members before the allocation of Cemt licenses.
The Association of Employers' Associations of the Transport Companies of the Republic of Macedonia "MAKAM-TRANS" is the largest association of employers of transport companies in the Republic of Macedonia. Macedonia. The main activity of the Association is the promotion and development of international transport of goods as well as inland transport within the territory of the Republic of Macedonia. Macedonia, with an active influence on changing, specifying and introducing a number of legal provisions that directly influenced and influence the improvement of the economic and social status of membership.
Delamode Macedonia participates as a VIP member together with the largest Macedonian companies such as forwarders, transporters, banks, etc. This allows us to take an active role in the promotion of our business.
At this event, we took active participation with presentation of promotional materials to all participants, we had a 5 minute presentation as well as a huge number of direct meetings with our clients and partners.