Деламоде е добитник на наградата BIFA 2017, за "Европска Логистика"
01. 01. 2017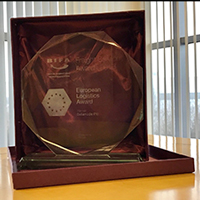 Delamode is pleased to announce that he is the winner of the BIFA Award 2017 awarded by the British International Trasporters Association. In its 28 years of existence, this award has been widely recognized today as a leader in the field of Transport and Logistics. BIFA celebrates and rewards nominated companies and award winners for achieving exceptionally high standards in their respective areas.
Delamode was selected as the winner of the European Logistics Award 2017 after the creation and introduction of his (EshopWedrop), a service that provides Eastern European customers to buy electronically electronic goods from suppliers located in Western Europe and to be delivered to the door or to a collective center. Historically, the high cost of delivery was an obstacle for customers in Eastern Europe to purchase from electronic suppliers.
EshopWedrop is a relatively new service that was introduced in 2015, covering the already existing B2B network of B2B service routes with a B2C delivery service, which allows customers to make an electronic purchase in the UK, Poland, Italy and Germany, and their goods to be delivered quickly, efficiently and at a low cost.
Opinion of " judges " after Delamode's success:
The judges agreed that Delamode demonstrated success in the implementation of an innovative solution while offering expressive delivery to the Romanian and Baltic markets. This solution provided conditions for cost savings and hence a benefit for the business community, which then reflected on the clients by offering them more efficient delivery.
BIFA is a trade association of more than 1500 companies in the Transport and Logistics sector registered in the UK. These companies are involved in international cargo shipments for all types of transport.
Stephen Blyth, Delamode Group Chairman, said:
We are really pleased with the introduction and success of EshopWedrop service, a success recognized by BIFA now through the award given to us. It is extremely important for us to receive this award for the third time, and taking into account the progress we have achieved, we continue to introduce a variety of innovative IT solutions and we sincerely hope that we will be successful and rewarded again.